The total crypto market cap declined heavily and broke the $115.00B support level.
Bitcoin cash extended losses and traded below the $130 support level.
Tron (TRX) started a downside move and traded below the $0.0250 support level.
Cardano (ADA) is moving lower and it may soon test the $0.0400 support zone.
IOTA (MIOTA) is down more than 7% and it recently broke the $0.3000 support.
The crypto market is under a lot of selling pressure, dragging bitcoin (BTC) and Ethereum below key supports. Moreover, ripple, Litecoin (LTC), Tron (TRX), IOTA and Cardano (ADA) also fell significantly.
Bitcoin Cash Price Analysis
Bitcoin cash price started a major downside move from well above the $160 support. BCH/USD broke the $150 and $140 support to enter a bearish zone. Recently, sellers pushed the price below the $130 support and pushed it towards the $120 support.
The price is currently consolidating losses near $125, with an immediate resistance at $130. The main hurdle is near $135 and $140 levels, above which the price could test $150. On the downside, below $120, the price may test $100.
Tron (TRX), ADA and IOTA Price Analysis
Tron price remained a strong upward move this past week, but the recent decline in BTC and ETH dragged it lower. TRX price recently declined below the $0.0280 and $0.0250 support levels. The next key support is at $0.0220 where buyers may emerge.
Cardano price retreated from the $0.0500 resistance and declined below $0.0450. ADA is now approaching the $0.0400 support, which is likely to produce a short term bounce.
IOTA (MIOTA) came under a lot of pressure and it recently declined below the $0.3200 and $0.3000 support levels. The price is down around 7% and it seems like sellers may push it towards the $0.2800 support.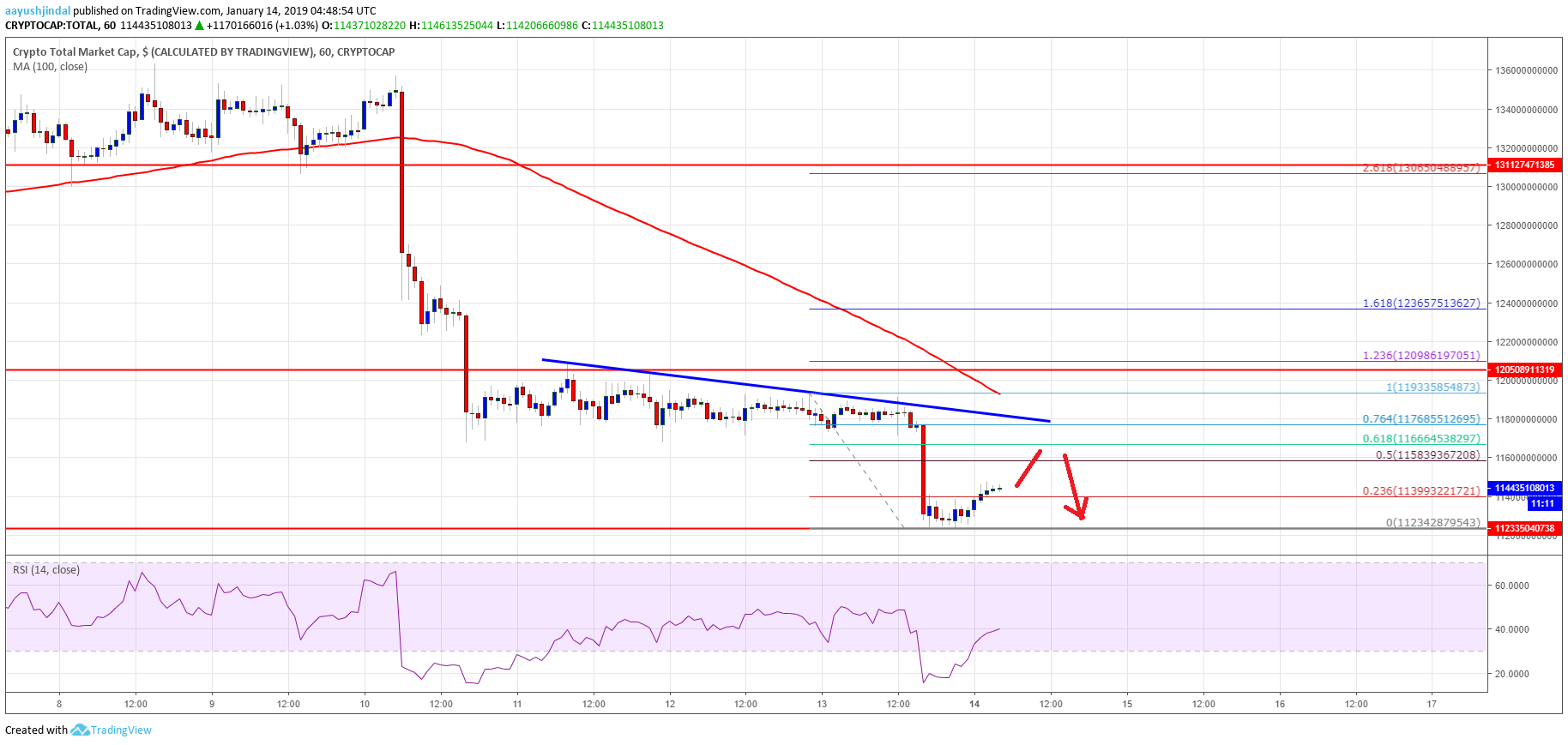 Looking at the total cryptocurrency market cap hourly chart, there was a sharp bearish turn from well above the $135.00B level. The market cap broke the $130.00B and $120.00B support levels to enter a bearish zone. It recently broke the $115.00B support and tested the $112.30B level. If there is an upside correction, the previous supports at $118.00B and $120.00B may act as hurdles for buyers. Therefore, upsides in bitcoin, Ethereum, EOS, ripple, litecoin, BCH, ICX, EOS, XLM, and other altcoins are likely to remain capped.
The post Crypto Market Update: Bitcoin Cash, Tron (TRX), ADA, IOTA Price Analysis appeared first on NewsBTC.
A Blockchain is a growing list of records, called blocks, which are linked using cryptography. Cryptography is the practice and study of techniques for secure communication in the presence of third party adversaries. Cryptocurrency is a digital currency that uses encryption (cryptography) to regulate the generation of currency and verify the transfer of funds, independently of a central bank.
Blockchain 101 · Crytpo Currency Market
—————————————————
Trezor: Hardware Wallet
Binance: Exchange for Traders
Ledger Nano S: Hardware Wallet
Coinbase: Exchange for Investors
CoinSwitch: Wallet-to-Wallet Exchange